The world of marketing is changing. Digital transformation has brought around new ways of communicating with buyers as well as technologies that help make it easier to do so. With these changes, customer expectations have grown. Customers expect personalisation and are not longer satisfied with being lumped into groups based on vague demographics.
So, how can marketers fulfil these expectations? How can technology help with this. Cindy Chao, Product Marketing Manager at Marketo discusses these questions and more during the 2018 AI Growth Summit. Here's a few things we picked up from her talk, ContentAI: Practical Artificial Intelligence That Exceeds Customer Expectations.
Expectations are high
Customers are demanding more than ever before from sellers when it comes to their buying experience. In her talk, Cindy Chao shares some key statistics which highlight the current state of customer expectations.
79% of consumers only consider brands that show they understand and care about them (Wunderman)
70% of buying experiences are based on how the customer feels they are being understood (McKinsey)
64% buyers say that customer experience is more important than price in buying decision (Forrester)
Buyers want to be understood as individuals and not lumped into groups. Chao predicts that expectations will continue to rise especially as new channels and new methods of engagement are available.
Personalisation is key
Marketers are aware that personalisation is important and necessary in the days of digital transformation. Personalisation is not a new concept, for sure.  And, not surprisingly, marketers can see the improvements in our efforts when they include personalisation in their marketing plans.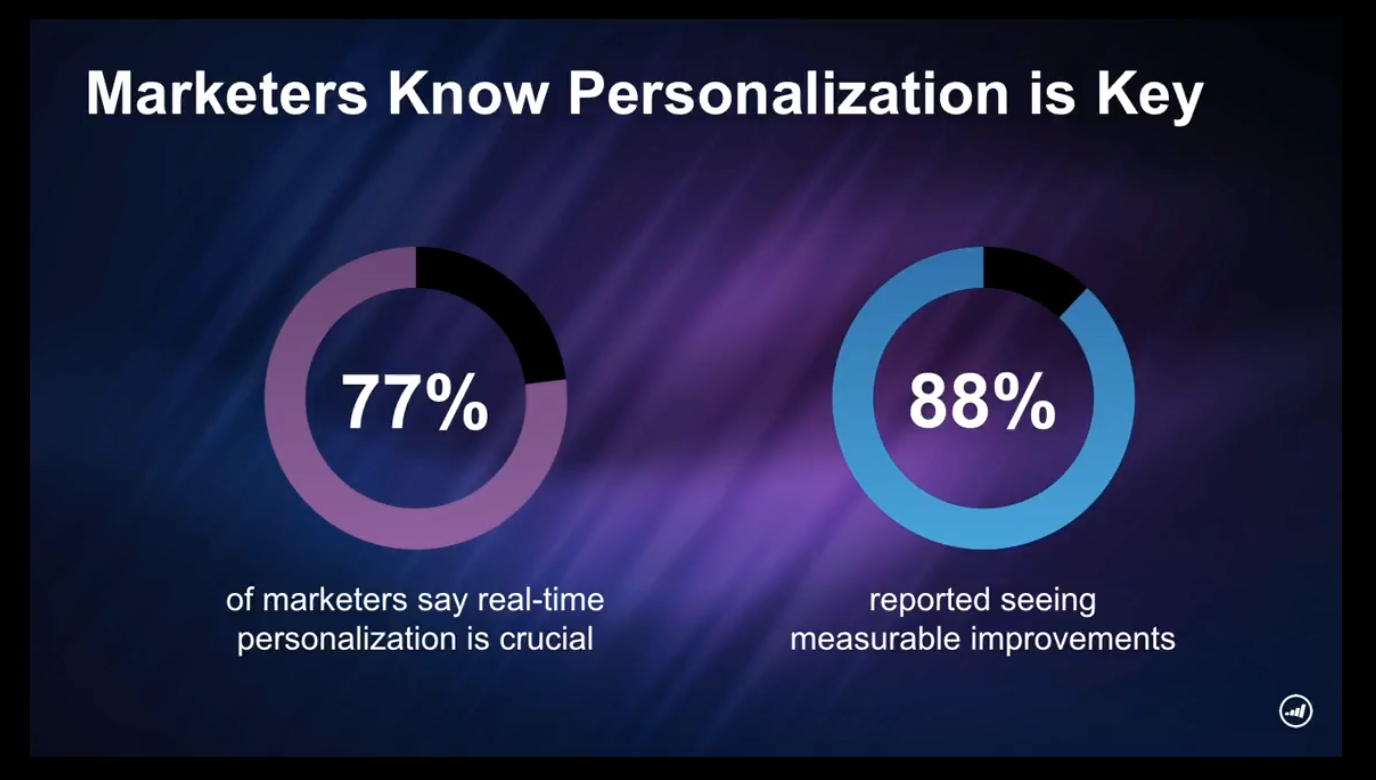 This brings about the question of why isn't everyone using personalisation? The answer is because one-to-one personalisation at scale is difficult. If your client list is relatively small, personalisation is achievable. However, when a company is dealing with 100s or 1000s of potential buyers, personalisation becomes harder to do.
Becoming more personal – AI for marketers
So, how do marketers get past the problem of scale and accomplish personalisation? The solution lies in AI. Part of this includes having an AI programme that is built for marketers. Something that is easy to implement and use and can adapt the need to consult the tech department when circumstance change.
Another thing an AI programme need to work for marketers is that it performs on centralised data. AI is only as good as the data it is given. So, it's important that all the information and interactions data points are available so that marketers can learn and adapt.
Lastly, the programme must be transparent and allow for control. Marketers must be able to measure and optimise based on these measurements. They also must be able to make changes when necessary.
What to hear more?
Listen to the whole Marekto presentation as well as other great AI insights at the 2018 AI Growth Summit.